100 East Benton Street, La Plata, Missouri 63549
Phone: 660-956-9949 * Email: Info @ SilverRailsWinery.com
---
---
WE HAVE A FEW NEW SILVER RAILS WINES.
COME ON IN AND TRY THEM!
---
DON'T FORGET OUR HALF & HALF SPECIAL!
Come During The First ½ Hour That We Are Open Each Day &
Buy For ½ Price Your FIRST Glass Of Wine Or Wine Slushie!
Help Us Get The Party Started Early!
Good Mon-Wed-Thu-Fri 4-4:30pm Sat&Sun 12-12:30pm
---
Serving wines from Missouri & The World in our tasting room.
$5 wine flights, wine by the glass & the bottle, beer, soft drinks.
Light snacks plus cheese & meat trays. Try out $6 wine slushies!
Pizza Delivery From Gameday Pizza! 660-587-2013 | Menu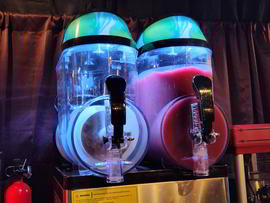 We are open for business so feel free to drop on by!
Take the Route D Exit off Highway 63, turn left onto
Brown Street, drive ½ mile, then take a right onto Benton Street.
NEW HOURS:
Wednesday - Friday: 4 PM - 9 PM
Saturday & Sunday: Noon - 9 PM
Monday: 4 PM - 9 PM Tuesday: CLOSED
Closed For Christmas:
Thursday Dec 21 - Thursday Dec 28, 2023
Watch For Our New Year's Eve Party Announcement!

Click the above play button to view a tour
of the Silver Rails Winery Tasting Room.
Free 50 Amp EV Level II Charging - Inquire In Tasting Room
Click here
for photos of the winery building
before the addition of the tasting room.
Click here
for all other photos related to the Silver Rails Winery.
We are currently looking for musicians to play on Friday and/or Saturday preferably 7pm to 9pm. Since we are a very new winery, we don't yet have enough sales to pay entertainers. But if you are willing to work for just tips, we usually do bring in a full crowd of up to 50 people when we do have live music. Ideally we'd like to get 4 or more different individuals or bands willing to come in once each month so that we can offer something different each week. If you are interested, send an email to info @ SilverRailsWinery.com or call 660-956-9949.
Note: This webiste is probably like no other website you are used to. One of the owners of this winery, Stephen Grande, has been involved with computers since the early 1970s and web design since 1995. This website is updated EVERY TIME there is something new to report. Most websites look like slick advertising and are rarely updated. This website is very old school, but it explains pretty mcuh everything there is to know about our winery and is absolutely updated every time there is something new to report. It is usally updated more than once per week. Please check back to visit our website frequently as it is updated very often. Unlike other wineries where the owners may be a mystery to people who visit the winery, the lives of the owners of this winery are an open book. Want to know what we've been doing over the last few years? Just click here to see everything we've been up to over the last few years! Come to know us and come visit our winery.