100 East Benton Street, La Plata, Missouri 63549
Phone: 660-956-9949 * Email: Info @ SilverRailsWinery.com
COME TO OUR FIRST LIVE MUSIC EVENT!
Acoustic Guitarist/Songwriter
Hardy_But_Hardly
Saturday, Sept 16, 5pm to 7:30pm

TRY OUR NEW WINE MIMOSAS!
September 2023 Hours:
Tuesday - Friday: 4 PM - 9 PM
Saturday & Sunday: 10 AM - 9 PM
Monday: CLOSED
New Hours Starting October 1, 2023
Wednesday - Friday: 4 PM - 9 PM
Saturday & Sunday: Noon - 9 PM
Monday: 4 PM - 9 PM Tuesday: CLOSED
Serving wines from Missouri & The World in our tasting room.
Offering $5 wine flights, wine by the glass & the bottle, beer, soft drinks
and light snacks including cheese & meat trays. Try out $6 wine slushies!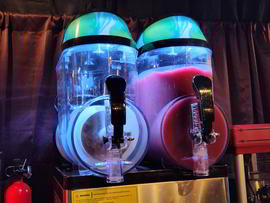 We are open for business so feel free to drop on by!
Take the Route D Exit off Highway 63, turn left onto
Brown Street, drive 1/2 mile, then take a right onto Benton Street.

Click the above play button to view a tour of the Silver Rails Winery Tasting Room
Free 50 Amp EV Level II Charging - Inquire In Tasting Room
Click here
for photos of the winery building before the addition of the tasting room.
Click here
for all other photos related to the Silver Rails Winery.