Silver Rails Winery Tasting Room
Wine Text Menu
$6 Wine Slushies: House Special or Sangria
| $5 Full Wine Flight (1oz pour of each) | Color | Glass | Bottle | Region |
| --- | --- | --- | --- | --- |
| SRV Chug Chug | White | $5 | $15 | Missouri |
| SRV Vignoles | White | $6 | $18 | Missouri |
| SRV Chardonel | White | $6 | $18 | Missouri |
| SRV Chug | Red | $5 | $15 | Missouri |
| SRV Milepost 312.7 Red Blend | Red | $6 | $18 | Missouri |
| SRV Norton | Red | $6 | $18 | Missouri |
One Ounce Taste Of Any 2 Above Wines - No Charge
| Sweet Wines | Color | Glass | Bottle | Region |
| --- | --- | --- | --- | --- |
| SRV Chug Chug | White | $5 | $15 | Missouri |
| SRV Chug | Red | $5 | $15 | Missouri |
| St. James Blackberry | Red | $6 | $14 | Missouri |
| St. James Velvet Red | Red | $6 | $14 | Missouri |
| Semi-Sweet Wines | Color | Glass | Bottle | Region |
| --- | --- | --- | --- | --- |
| SRV Vignoles | White | $6 | $18 | Missouri |
| Orlana Vinho Verde | White | $6 | $15 | Portugal |
| Tomas Schmitt Riesling | White | $8 | $26 | Germany |
| Rose Wines | Color | Glass | Bottle | Region |
| --- | --- | --- | --- | --- |
| KC Wineworks Chambourcin Rose | Rose | $7 | $25 | Missouri |
| Orlana Vinho Verde Rose | Rose | $6 | $15 | Portugal |
| Dry White Wines | Color | Glass | Bottle | Region |
| --- | --- | --- | --- | --- |
| SRV Chardonel | White | $6 | $18 | Missouri |
| KC Wineworks Crossroads White Blend | White | $7 | $25 | Missouri |
| Pine Ridge Chenin Blanc/Viognier | White | $8 | $26 | California |
| Brancott Estate Sauvignon Blanc | White | $7 | $24 | Australia |
| Justin Sauvignon Blanc Central Coast | White | $9 | $28 | California |
| Dry Red Wines | Color | Glass | Bottle | Region |
| --- | --- | --- | --- | --- |
| SRV Milepost 312.7 Red Blend | Red | $6 | $18 | Missouri |
| SRV Norton | Red | $6 | $18 | Missouri |
| Angeline Cabernet Sauvignon | Red | $8 | $24 | California |
| Chasing Rain Red Mtn Cabernet Sauvignon | Red | $10 | $30 | Washington |
| KC Wineworks Chambourcin | Red | $7 | $25 | Missouri |
| Rodney Strong Merlot Sonoma County | Red | $8 | $24 | California |
| Firesteed Pinot Noir | Red | $8 | $26 | Oregon |
| Seghesio Zinfandel Sonoma Country | Red | $10 | $40 | California |
| Beer | Bottle |
| --- | --- |
| Yuengling Traditional Lager | $3 |
| Michelob Ultra | $4 |
| Busch Light | $3 |
| Busch NA (No Alcohol) | $3 |
| Miller Lite | $3 |
| Coors Banquet | $3 |
| Coors Light | $3 |
| Shiner Bock | $4 |
| Rolling Rock | $3 |
| Bur Oak Boone County Brown | $5 |
| Bur Oak Big Tree IPA | $5 |
| Logboat Snapper IPA | $5 |
| Logboat Dark Matter Porter | $5 |
| Logboat High Tide American Wheat | $5 |
| Other Beverages | Container | Price |
| --- | --- | --- |
| Bottled Water | Bottle | $1 |
| Diet Coke | Can | $2 |
| Fitz's Root Beer | Bottle | $3 |
| Fitz's Grape Pop | Bottle | $3 |
| Fitz's Cardinal Cream | Bottle | $3 |
| Sprecher Puma Cola | Bottle | $3 |
| Sprecher Fire Brewed Cherry Cola | Bottle | $3 |
| Sprecher Fire Brewed Root Beer | Bottle | $3 |
| Sprecher Fire Ginger Ale | Bottle | $3 |
| Sprecher Club Soda | Bottle | $2 |
| Sprecher Seltzer Water | Bottle | $2 |
| Sprecher Tonic Water | Bottle | $2 |
| La Croix Pure Sparkling Water | Can | $2 |
| La Croix Key Lime Sparkling Water | Can | $2 |
| La Croix LimonCello Sparkling Water | Can | $2 |
| La Croix Coconut Sparkling Water | Can | $2 |
| La Croix Lime Sparkling Water | Can | $2 |
| La Croix Lemon Sparkling Water | Can | $2 |
| Coffee | Cup | $1 |
| Ice Tea | Glass | $1 |
| Hot Tea | Cup | $1 |
| Busch NA (No Alcohol) | Can | $3 |
| Food Menu | Price |
| --- | --- |
| Variety Chips | $ 1.00 |
| Trail Mix | $ 1.50 |
| Ritz Cheese Crackers | $ 1.50 |
| Ritz Peanut Butter Crackers | $ 1.50 |
| Chocolate Chip Cookie | $ 2.00 |
| Cheese & Crackers: Jack, Mild Cheddar & Wheat Thins | $ 2.50 |
| Cheese & Crackers: Gouda, Sharp Cheddar & Triscuits | $ 2.50 |
| Pre-packaged Cheese Tray | $12.00 |
| Fiorucci Panino Prosciutto | $10.00 |
| Fiorucci Panino Genoa Salami | $10.00 |
| Garlic & Herbs Soft Spreadable Cheese | $ 8.00 |
| Garlic & Herb Goat Cheese | $ 6.00 |
Note: Availability of above food items may vary.
We substitute other food items from time to time.
Click the below photo for a larger image of the menu.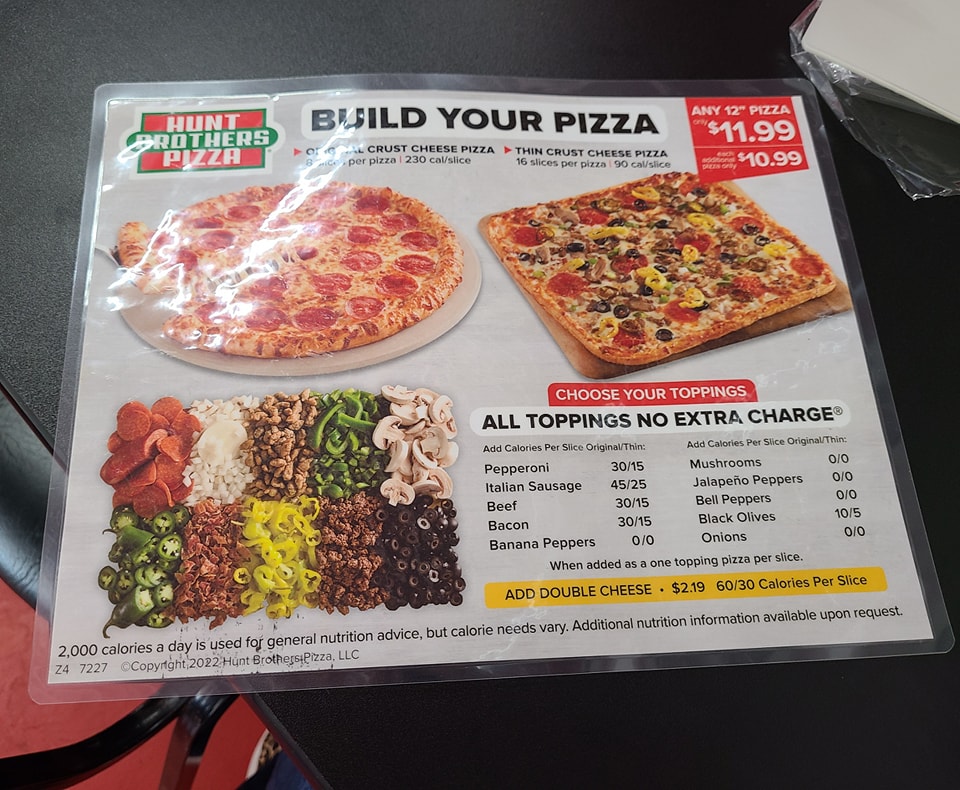 Delivery in available from Gameday Pizza! 660-587-2013
Note: If they are busy they might not be able to deliver, but if you wish to pick-up your pizza
they are located just 1/2 mile down Gex Street in Downtown La Plata at 129 East Moore Street.
CLICK HERE
for the Gameday Pizza Facebook Page.
You are also always welcome to bring in your own food!
The Silver Rails Winery Tasting Room is a great place for parties and gatherings!
Close This Browser Tab or
Click Here
to return to the
Silver Rails Winery Main Page.